< Previous | Contents | Next >
In G-Stomper Producer, a Pattern lives in the Track Sequencer of a specific Track, e.g. a Drum Sampler Track, VA-Beast Synth Track, the Send FX Track, the Master Track, or the dedicated Tempo Track. In other words, each Track in G-Stomper Producer has its own Patterns, and therefore each Track can have its own, individual timing.
Even if the Timing Parameters in G-Stomper Producer are generally per Track, the Tempo/BPM is still set globally for the complete musical setup. Therefore the Tempo/BPM controls are placed in the Global Mixer section, in the dedicated Tempo Track, and not in the Timing section like in G-Stomper Studio for example.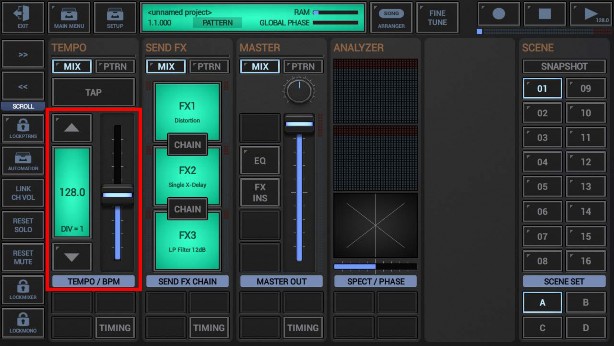 As a matter of course, also the Tempo Track, the Send FX Track, and the Master Track have their own, individual Timing. But since the only sequences in these non-instrumental Tracks are Parameter Automations, Swing Quantization is not required. Therefore their Timing section comes without Swing/Shuffle controls.