< Previous | Contents | Next >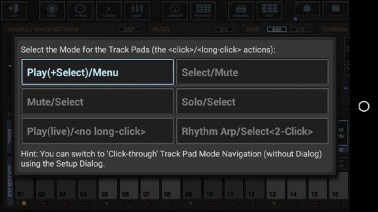 The Sampler Drum Pads provide 24 Pads to be used for live playing. Since the Drum Pads are in fact a specialized form of the Sampler Track Pads, they can also be used like regular Sampler Track Pads, e.g. to mute/un-mute, solo/un-solo, load samples, etc.
(for details see Chapter: Sampler Track Pads T01 - T24)
The advantage of the Drum Pads is that you see all 24 Sampler Tracks at once.
Furthermore the Drum Pads react "on Touch" in all Track Pad Modes except Play/Menu. (see Chapter: Sampler Track Pad Mode)
Reacting "on Touch" is much more direct than the normal "on Click" behaviour and therefore more suitable for Drum Pads.
Note:
On the Drum Pads, long clicks are only supported in Play/Menu Track Pad Mode. (see Chapter: Sampler Track Pad Mode)