< Previous | Contents | Next >
Bouncing a VA-Beast Track means to create an audio loop from a single Track with all audio processing rendered into (with exception of the Master/SumFX section), and to load that bounced loop to a Sampler Track of your choice.
Bouncing a complete Track does include the Sequence as well as the Effect chain.
Since the bounced Track (once it's rendered) still passes through the regular Master/SumFX section, the bounced loop does not include the Master/SumFX section.
Note:
Bouncing a VA-Beast Track requires a Sampler Track to bounce into.
Long press a VT[..] pad to show up the Track menu (Track Pad Mode must be Sel/Menu).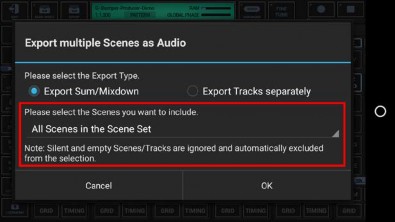 To bounce the complete Track, select the EXP tab, and then choose "Export/Bounce complete Track".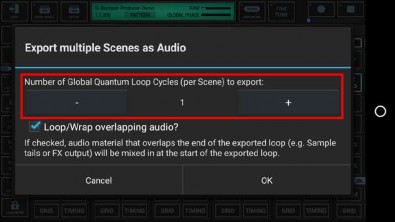 Important Note:
Bouncing a Track replaces the complete Track Sequence with a static audio loop, which means that the Track has a fixed tempo once it is bounced. A bounced Track cannot be un-bounced, so choose wisely or at least backup the Pattern in advance.
To ensure smooth running audio loops, audio parts that overlap the end of a Pattern (e.g. a long sound or a reverb or delay effect tail) can be wrapped around and mixed in at the start of the exported audio loop.
If you do not want the overlapping audio getting looped/wrapped for some reason, disable this checkbox.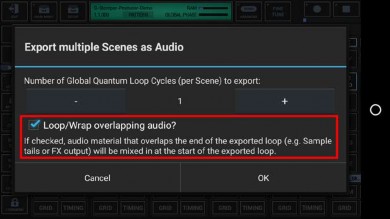 Select the Sampler Track to bounce the VA-Beast Track into.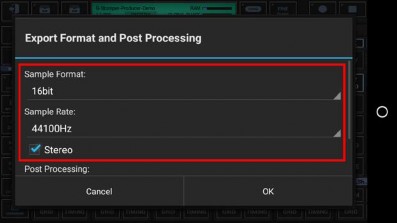 Select the Export Format.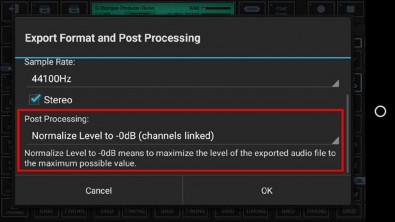 Bit Rates: 8bit, 16bit, 24bit, 32bit(float)
Sample Rates: 22050Hz, 32000Hz, 44100Hz, 48000Hz, 64000Hz, 88200Hz, 96000Hz
Note:
What sample format you choose strongly depends on your personal needs. In most cases, the best choice for bounced Tracks is to keep the defaults.
Select a Post Processing method.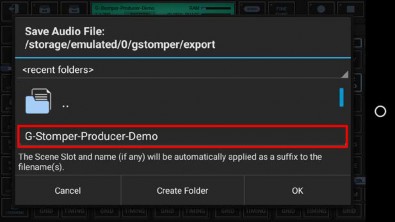 For bouncing, in most cases "No Post Processing" is the best choice (which is the default for all bouncing operations).
Note:
Further Post Processing options:
- Normalize Level to -0dB (channels linked)
- Normalize Level to -0dB (each channel independently)
- No Post Processing (leave the mix as is)
Choose a name for the bounced loop. The Track number will be automatically applied as a suffix.
(By default, the bounced loop is named like the containing Pattern, with a Tempo/BPM suffix applied)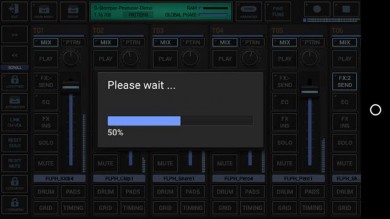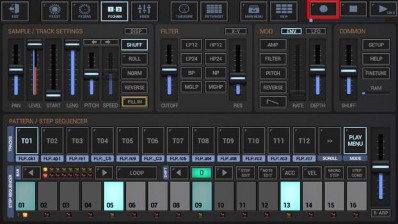 Finally, confirm with OK to start the bounce process.
Important Note:
Be aware of overwriting already bounced loops. Overwriting a bounced loop will replace the loop on all Patterns/Tracks where it was used already. If you're not sure about that, choose a new (non-existing) file name instead.
Once the bouncing process is done, the bounced loop will automatically be loaded to the selected Sampler Track, while the original VA-Beast Track got muted.