< Previous | Contents | Next >
1. Make sure you have the latest G-Stomper Studio (full version), G-Stomper Producer (full version), G-Stomper Rhythm (free) or
G-Stomper VA-Beast Synthesizer (full version) installed.
2. Download and install the Add-On Pack from Store like every other App.
3. Optionally, you can start the Add-On Pack App to preview its contents.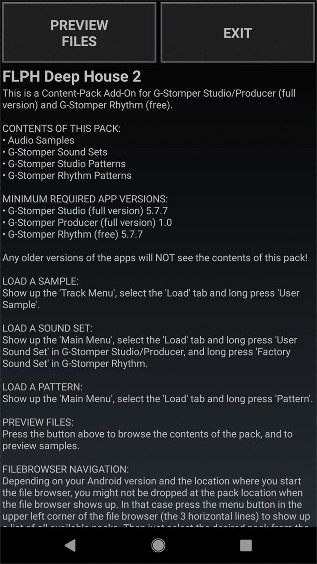 Note:
Add-On Packs can contain Sound Sets, Samples, Synthesizer Presets, Patterns, G-Stomper Studio Pattern Sets, or G-Stomper Producer Scenes or Projects in any combination. The description, which is provided in the Add-On Pack App, explains how to access and use the Pack Content in the particular G-Stomper apps.
4. Get back to your G-Stomper app and enjoy the new sounds.