The official BETA tests of G-Stomper Studio 4.0 started today.
The new version comes with a new, re-designed user interface and a major feature upgrade (see the detailed release notes below).
If you want to join the beta tests, please first check if the following conditions are met:
1. You are a regular G-Stomper Studio owner, bought on Google Play.
2. You joined Google+ with the same account.
If yes, send an
E-Mail
with your google email, the one with which you bought G-Stomper on Google Play.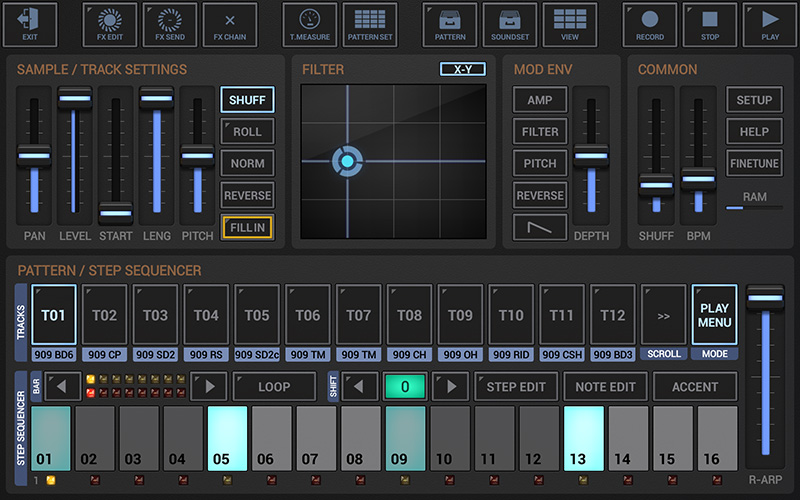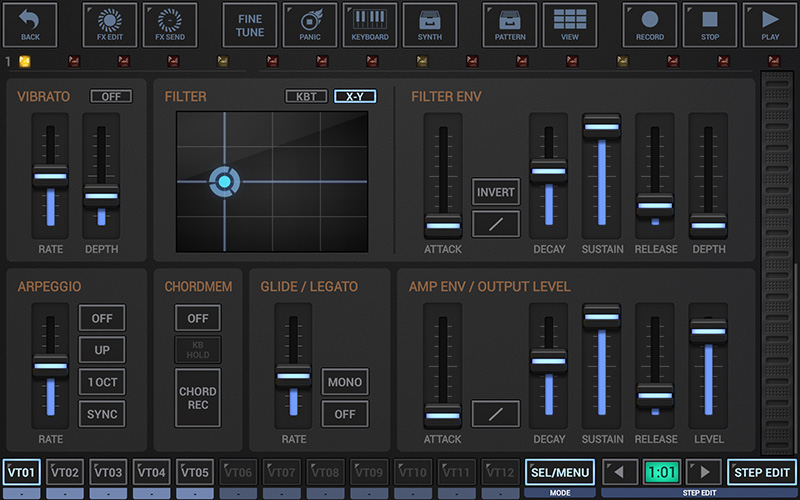 Release Notes:
- New redesigned Graphical User Interface
Complete new graphical design.
Zillions of UI optimizations and bug fixes.
- New overall file handling
All File Dialogs have been replaced by a new File Browser, which allows you to organize all your user files in folder structures.
- New User Sample integration
Usersamples don't need to be imported anymore, you can load every supported sample directly from the file system.
- New SoundSet implementation
You can now choose, what exactly you want to have saved with a soundset (Samples, Sampler Presets, VA-Beast Presets, FX1-3, Master).
- New custom initial Pattern
Save you own init pattern to be used in every case when a new initial pattern is created.
Simply save your desired init pattern with the name '-init-'.
- New optimized Export Process + Post Processing
Generally the Export Process has been re-organized.
Furthermore you get a new 'Post Processing' option in the Export Format Dialog, where you can choose Normalize the exported audio to -0dB (max volume).
- New Sampler Note Grid Edit mode
The Sampler Note Grid follows now the same logic as the Poly Grid. You can select particular Notes and note-shift or invert them.
- Optimization in the Mixer logic
The mixer channel volumes have been separated from the Sampler-/Synth internal Levels.
So if you now automate the Level on a Sampler Track, you can still change its overall volume using the mixer channel.
Furthermore the mixer channels got new internal amplifier modules, so that the audible result is exactly the same for Sampler and VA-Beast Tracks.
Logically, the Sampler-/Synth internal Level is applied on each Voice separately at the very first moment when the sound is generated
while the Mixer Channel Volume is applied to Sampler-/Synth internal Mixdown right before it gets routed to the FX chain.
- Mixer Volume Link Mode (Mixer view)
We all know this situation when you want to make a particular track louder, but it is at max volume already.
The only 'proper' way to achieve this is to lower all other channel volumes, which usually results in messing the mix up.
Not any longer... , you can now link the mixer channel volumes to raise or lower all channels at once while keeping the relation of volumes between the channels (long press the 'VOL' button to enable/disable).
When enabled, you can move any volume fader you want and all others follow while keeping the mix intact.
Try it, you'll definitely love that feature.
- Improved Roll feature (main Drum Machine)
You can now enable the Roll feature to be 'Accent Aware' (long press the 'ROLL' button to enable/disable).
When enabled, the Roll uses the regular Accent amount to adjust the Loudness of the particular Roll Triggers.
The first Roll trigger is at max volume (accentuated) while the last Roll trigger is at the min (most reduced) volume.
All Roll triggers in between (in case of Roll 3x/4x) are calculated to transit smoothly from max to min accentuation.
The Accent amount can be set as usual with the Accent Fader (in accent mode on the main Drum Machine).
- Improved Fill-in algorithm (main Drum Machine)
The Fill-in feature manipulates now Triggers and Accents (accents are only audible if an accent amount is set), while keeping the groove intact (e.g. it never places 2 accents in sequence).
This makes the generated Fill-ins to sound much more natural, be sure to give it a try.
The Accent amount can be set as usual with the Accent Fader (in accent mode on the main Drum Machine).
- New 'experimental' OpenSL integration for Quad-Core devices (or higher) with Low Latency support
This new, OpenSL based Audio System allows you to run G-Stomper at the half latency of the regular AudioTrack System.
So far, it is integrated for testing purposes only, there's no guarantee for its stability.
You're free to try it (hint: a slightly lower sample rate will produce better results on the lower latency).
If you notice audio glitches, then it is recommended to go back to AudioTrack.
And of course, every feedback is appreciated.
Very special thanks to:
Ron for the flood of ideas, including Fill-In algorithm, Roll internal Accent, Export Normalization, Mixer Improvement, and more..
The guys from Voger Design for creating and realizing a mindblowing graphical concept
Damien for his help with the OpenSL integration