< Previous | Contents | Next >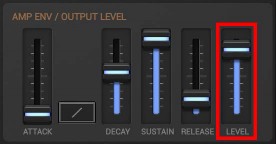 Level:
Controls the main output level of the Sound.
Note:
The Output Level is at the very end of the VA-Beast internal audio chain. It defines the level at which the audio signal leaves the Synth before it gets passed to the Mixer.
Note:
Regarding the Amplifier Envelope, the Output Level defines the Envelopes max level.