By default, G-Stomper stops its running playback when the app goes to background (e.g. when you press the home button, a phone call comes in, or if you lock the screen).
The same applies to an active Ableton Link connection. When G-Stomper goes to background, Ableton Link is temporarily disabled until the app is brought back to foreground.
If you want for some reason to keep the G-Stomper playback running and its Ableton Link connection active while the app is in background, activate the Stop-Lock feature and make sure that the G-Stomper playback is running (before you press the home button or you lock the screen).
To enable Stop-Lock, long press
, and then activate the 'Stop-Lock : Keep running while in Background' switch.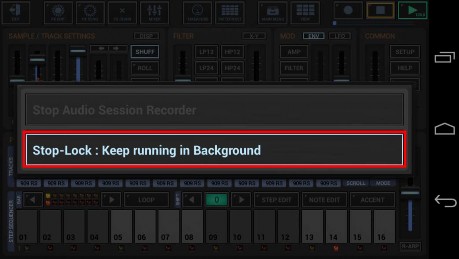 Important Note:
Synchronizing any G-Stomper app while in background is only possible when both playback and Stop- Lock are enabled.