Once you've programmed the Multi-Mute, you can turn it ON/OFF using the Multi-Mute Buttons on the Mixer, FX and Master/SumFX screens, and also on all screens that provide Track Pads (Main Drum Machine, Sampler Note Grid, Sampler Track Grid and Sampler Drum Pads, VA-Beast Synthesizer, VA- Beast Poly Grid, VA-Beast Keyboard).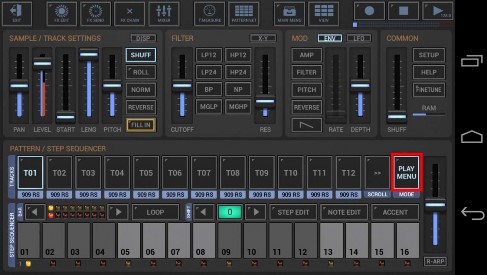 1. Make sure the Track Pad Mode is set to one of the following:
• Play/Menu
• Sel/Mute
• Sel/Menu (on VA-Beast related screens)
2. Long click the Mode Button to turn the Multi-Mute ON/OFF.
(see also Chapters: Sampler > Sampler Track Pad Mode, VA-Beast Synthesizer > VA-Beast Track Pad Mode)