Song Arranger Recording describes the process of recording Live Pattern Changes (done in the Track Pattern Sets or the Scene Set during Live Session) in real-time as a Song Arrangement. The recorded Song Arrangement can be edited later on, like every other Song Arrangement that you've created using the editor.
Note:
The Song Arranger Recording is meant to record a rough song structure in real time. It is not meant to record Parameter Automations.
Make sure that you're in Song Operation, and then Press Record to start a new Song recording session.

Note that the Record button turns permanently on while the Play button starts flashing. This means your recording session is prepared in paused state.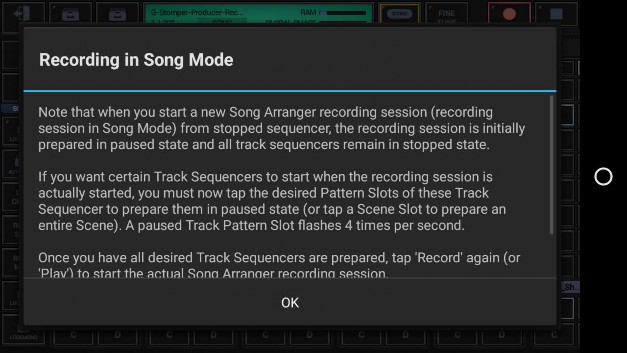 Important Note:
When you start a new Song Arranger recording session (recording session in Song Mode) from stopped sequencer, the recording session is initially prepared in paused state and all track sequencers remain in stopped state.
If you want certain Track Sequencers to start when the recording session is actually started, you must now tap the desired Pattern Slots of these Track Sequencer to prepare them in paused state (or tap a Scene Slot to prepare an entire Scene). A paused Track Pattern Slot flashes 4 times per second.
Once you have all desired Track Sequencers are prepared, tap 'Record' again (or 'Play') to start the actual Song Arranger recording session.
While the sequencer is in paused state, tap the Track Pattern Slots that you want to start right at the beginning of the recording session, so that these switch from "stopped" to "paused" state. A paused Track Pattern Slot flashes 4 times per second.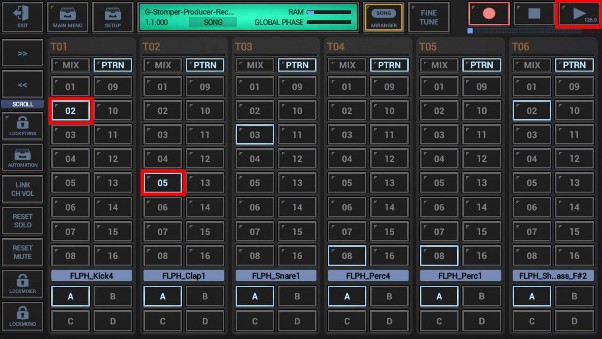 Now, while the sequencer is running and recording, tap some of the Track Pattern Slots to switch between Patterns, like you would do in a normal live session. Every executed Pattern Change is recorded to the Song arrangement, or in other words, every Pattern Change creates a Song Event in the Song Arrangement. As a matter of course, you can also start or stop certain Track Sequencers during the recording session.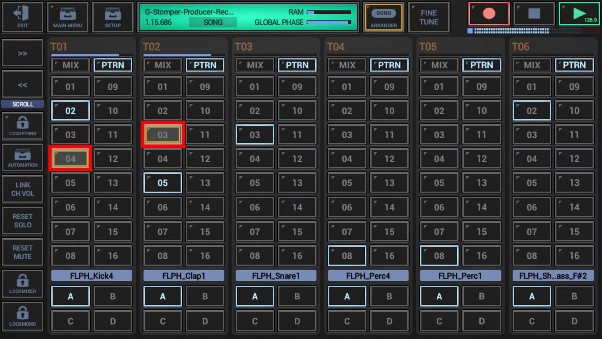 (for further details on how to use the Track Pattern Sets, see Chapter: Track Pattern Sets & Scene Set)
Finally, press Stop to end the recording session.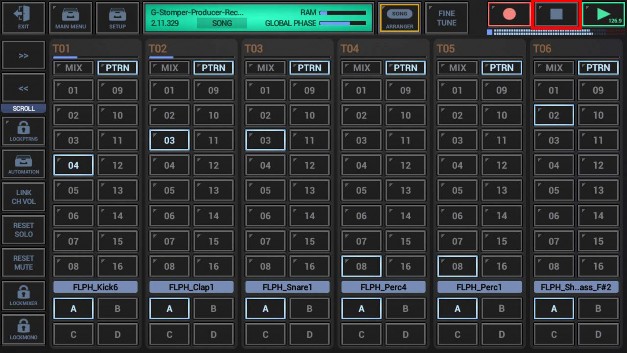 You can now switch to the Song Arranger Editor to verify or edit your recorded Song Arrangement.