< Previous | Contents | Next >
Make sure that either "Edit" or "Resize" is activated in the sidebar. Copy a selection of Song Events as described in the Chapter "Copy selected Song Event(s)".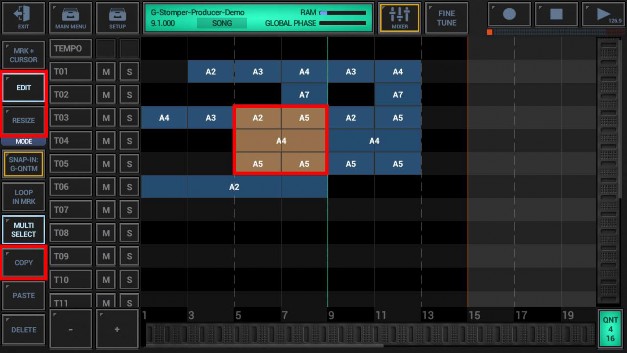 Once the selected Song Events are copied to the clipboard, the Edit Cursor is automatically set to the end of the selection.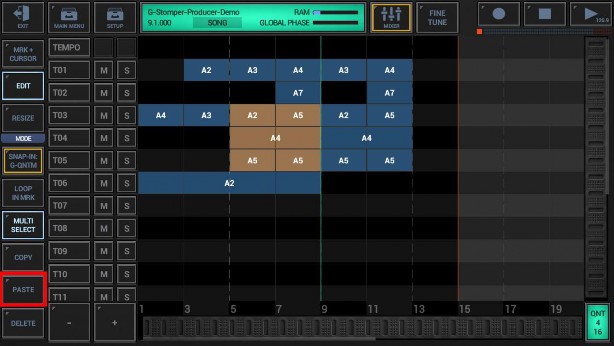 Long press the "Paste" button in the sidebar to show up the extended Paste menu, and then choose "Paste Insert" from the menu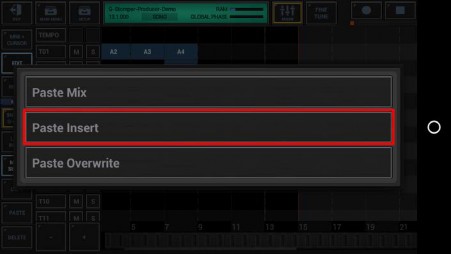 "Paste Insert" first moves all Song Events at the right side of the Edit Cursor to the right in order to open a gap with the size of the copied selection. Then the "Paste" process adds the previously copied Song Events at the Edit Cursor position (into the previously opened gap), and then automatically selects the added Song Events and moves the Edit Cursor to the end of the selection. That way you can paste the same section multiple times without the requirement of manually setting the Edit Cursor every time.